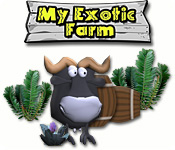 3D farm simulation with exotic animals.
Expand and develop your farm with exotic animals to build the most beautiful one in the land!
My Exotic Farm is a 3D farm simulation with 5 categories of animals that produce eggs, meat and milk. To expand and develop your farm, you have to build new elements: fences, berry bush, drinking trough, etc. Buy new animals at the Great Market! Take on the challenge and build the richest and most beautiful farm in the country!
Feature(s):
• Build up your farm!
• Unlock all the bonuses!
• Buy exotic animals.
• Click here for more features
Download this game? Download Now!
Related Video(s):