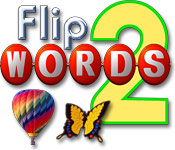 Flip letters for word-making fun!
Flip letters, make words, and solve familiar phrases in this sequel to the hit Flip Words!
Click letters to flip them around and make words in this exciting sequel to one of the most captivating word games around. You can test your skills in Classic mode; get into Strategy mode where you can earn and spend tokens to help you solve the phrase; or, share the fun with your friend in Party mode! Flip Words 2 will keep tons of word fun at your fingertips!
Feature(s):
• High quality graphics.
• New phrases to download.
• Online score lists.
• Exercise your mental muscles inFlip Words
• Click here for more features
Download this game? Download Now!
Related Video(s):