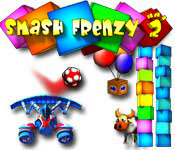 Become the best brick breaker!
Prepare to be dazzled by all 100 of the layouts in this unique 3D twist on the classic brick-breaking game style.
Are you prepared to be dazzled? This is one of the most magical of all breakout-style games is better than it was before! Revisit this classic game style, featuring more than 100 amazingly innovative 3D layouts complete with animated characters and all new power-ups. Become the best brick-breaker you can be!
Feature(s):
• 100 levels.
• Unique 3D graphics.
• 6 cute characters.
• Click here for more features
Download this game? Download Now!
Related Video(s):