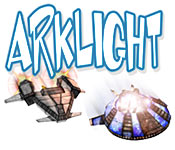 Fly a spaceship!
Take the X52-ArkLight for a spin and shoot your way through blockades. It's a powerful spaceship and your last chance for freedom.
Battle through cities and blast through blockades in this exciting and unique brick-busting game. Blocks, tanks, turrets and attack crafts are laying in wait; you must blast past them in your quest for freedom.
Feature(s):
• 50 levels
• 500+ screens
• 3D graphics
• 3 gameplay modes
• Fun game mechanics
• Click here for more features
Download this game? Download Now!
Related Video(s):