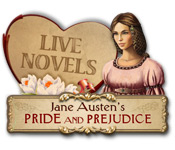 Jane Austen's famous novel, Pride and Prejudice is brought to life!
Live one of Jane Austen's most famous novels, Pride and Prejudice as you unravel a plot of intrigue, envy and romance!
Live one of the world's most famous novels in Live Novels: Jane Austen's Pride and Prejudice. As the young, wealthy and single Charles Bingly and his friend, Mr. Darcy visit a neighboring estate, the respected Mrs. Bennet sees a rare opportunity to marry off one of her daughters. Unravel a plot of intrigue, envy and romance in this beautiful Hidden Object Puzzle Adventure game!
Feature(s):
• Explore Victorian era England
• Experience a romantic atmosphere
• Solve interesting mini-games
• Click here for more features
Download this game? Download Now!
Related Video(s):